Simply building your application or coming up with the idea is not enough anymore. The market of the applications is extremely competitive nowadays, and it is just getting very hard to stand out from the whole lot. No matter what your budget is but going unprepared with your application is just something that is going to end up very bad. But here are some things that will surely help you out in order to get started with your application development. All you have to do is to follow these and implement the strategies to take your business towards success.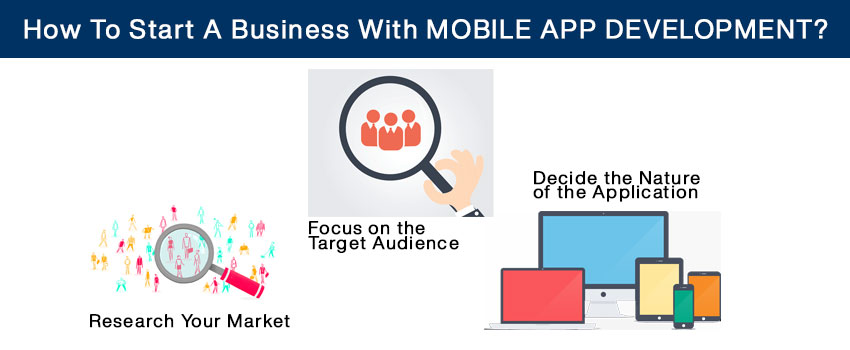 Research Your Market
The first step you take towards the new business is through the market that you will be working in. According to your mobile application development business and the target audience, you need to pick and research the market that you will be working in. You need to understand the present gaps that exist in the market currently. This will provide you with an idea about what to focus on and how you will be able to attract more customers with extraordinary products and services. You should also focus on:
Competitors
Strategies
Strength and weakness
Unique selling point
You need to find the answers for these and then start with your business. Also, one thing to keep in mind is to always learn from the mistakes that your competitors are making right now. You can easily work on those problems and find a solution for the customers. This can be a unique selling point that can easily help you to establish the customer base.
Focus on the Target Audience
According to the nature of your mobile application development business, you need to, first of all, find the target audience and then find ways to attract them towards your business. This will help you in creating a larger customer base for your business, ultimately leading to higher profits. This step, most probably is one of the most important as well as the trickiest one. That is why you must pay proper attention to choosing and then acting on it. You can easily find out the audience by getting to know the functionality of your business along with the use case. After getting to know your customer base, you need to act fast on it without wasting any more time.
Decide the Nature of the Application
After deciding the type of application that you are building, you need to also focus on the nature of the application; whether the application must be web-based, hybrid or native one. This decision must be taken according to the customer base that you are targeting and the platform they use the most. Deciding the nature of the application is something that will help you in building a powerful and long-lasting mobile application development business. Also, you need to figure out the technologies and APIs that you are going to use for development purposes.