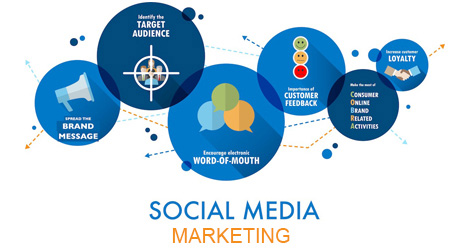 Social Media Marketing is an effective way to driving traffic or capturing attention through social media channels, such as Facebook, Twitter, Google+, Instagram, Pinterest and YouTube. Businesses can easily reach their potential audience by using creative content and making it viral online.
At MindInventory, we have a team of talented digital marketers. We understand your needs and create effective social media strategies and implement them over different social media channels. Understanding the nature and behavior of your potential clients is the foremost step. This helps us understand which strategy would best fit your needs and get you more and more audience. Our aim is to establish a reliable and consistent level of engagement with your audiences in Richmond Hill.
Why do you Need Social Media Marketing?
Who doesn't want to succeed online? Especially when you know that most of your users are available online on different social media channels. If you are not aware of the power of social media, then here are a few facts for you:
Around 79% of people have social media profiles
Around 57% of small-to-medium businesses are running on social media. 90% of large businesses rely on social media for growth & popularity
64% of consumers trust on brands that are active and communicate positively
A quarter of businesses count on social media for businesses or brands
One third of people check their social media five times a day
Social Media Channels We Work On
Reddit
SlideShare
YouTube
Quora
Pinterest
Instagram
Virtual Marketing
Facebook page management
Site Conversion improvement
Community participation/creation
Social Media Audit
Social Bookmarking
Twitter Account Management
LinkedIn Profile Creation & Management
YouTube Channel Creation & Management
Blog Content Development
Social Content Development
Social Influencer Marketing
Twitter Marketing
LinkedIn marketing
Pinterest Marketing
What Sets Us Apart?
MindInventory social media experts and copywriters work hand in hand. We create engaging content that can impress your audience in Richmond Hill. Your SMM campaigns are continuously monitored and customized when required. With us you don't have to worry about your online marketing campaigns as we leave no stone unturned when it comes to surpassing your expectations.