If you are a marketer, you must know what this is! However, if you are not tech-savvy, Historical Optimization means using previous high ranking content.
Of course, coming up with new content every time you sit to write is challenging, mainly that your audience would appreciate, not the google bot. Therefore, a method to make use of your content is by repurposing it.
Content Repurposing means using the same old content on different platforms in a different context. This content is represented by the audience from a different angle and perspective. There are so many reasons for historical optimization. Let us explore more about it and how it helps in increasing leads.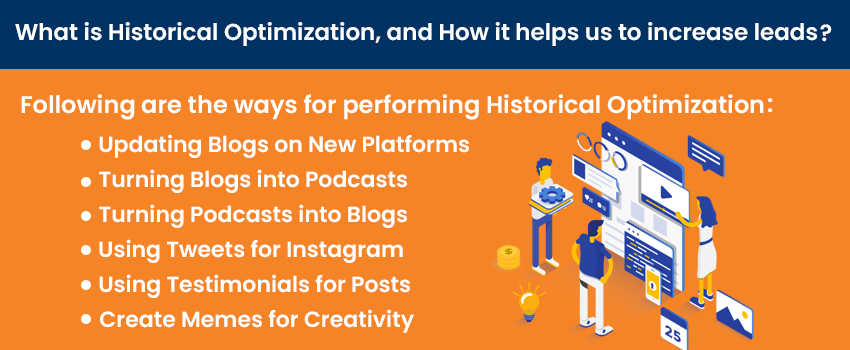 What Is Historical Optimization?
The term Historical Optimization is defined as a marketing strategy to reuse the blog content on the website with more traffic. Using it in different posts and editing them to make them relevant for an individual situation or context. This helps in increasing the number of leads, number of conversions, sales, and thus consequently, ROI of the business.
How do you do it?
Before repurposing the content, research and analysis on the same are needed. It helps in understanding what blog worked better and what didn't. You will learn about what the blog contains- whether it has enough keywords or enough reach? Depressing upon several factors, you will figure out the best blog that can be used for repurposing. Start by converting them into podcasts or posts to reach a new audience with a fresh perspective.
As we already know that the blog had high traffic, we can assume that the posts and podcasts will get more traffic. Thus, you may start using the old uploaded content with certain modifications and generate more leads and traffic for your website.
Moreover, with the research performed, you can know what search terms made this blog rank better. This will help you reuse those search terms and rank the individual posts and podcasts with that same search term.
How does Historical Optimization Help Us To Increase Leads?
If you are at a loss for your blog and website content ideas, you must use historical optimization.
Following are the ways for performing Historical Optimization:
Updating Blogs on New Platforms
When you are performing Historical Optimization, then you may start with updating the blog on different platforms. Maybe use it in a different context and perspective for a new set of audience.
Turning Blogs into Podcasts
If you have written enough blogs, you may turn each of those high ranking blogs into podcasts and create a new form of content. As more and more people are engaging in listening to content rather than reading it., it is beneficial.
Turning Podcasts into Blogs
You may turn podcasts into blogs to bring that audio files and use them for your website along with a high-performing SEO.
Using Tweets for Instagram
You may use tweets in the form of an image and post them on Instagram as it helps in reaching a new audience on a new platform.
Using Testimonials for Posts
Customer reviews and testimonials can be used to be posted on Instagram. This will help in speaking about your brand indirectly.
Create Memes for Creativity
If you want to be a little fun and quirky with your content, you may indulge in memes too. This will help in increasing shares among the audience.
Are you looking to optimize your content and increase leads historically? Then reach out to the most trusted team of professionals- MindInventory today. They have the right expertise and tools to make the best use of your previously written content. Make use of the right marketing tools and techniques until you have new ideas for content flowing in.