Growth of any company is determined by the number of clicks and visitors on their website. In the era of advancement, almost every company is using SEO techniques to make their business presence noticeable among the audience. But not every company succeeds in it because of different reasons. MindInventory has prepared a list of important tips that can increase your website traffic in an organic way.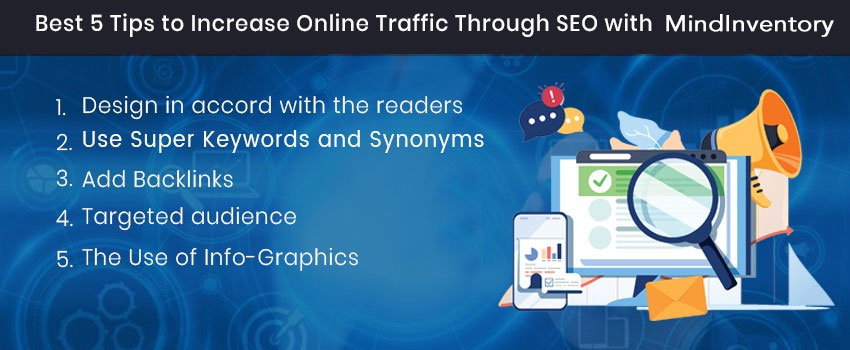 Generally, the search engines use a crawler system to detect your content. Therefore, whenever you try to finalize your content, it is a must to follow a specific checklist and style. This helps to add variety and as a result, a crawler detects your content easily. Given are the few important tricks to help you while going on with the site design.
1. Design in accord with the readers
Always remember, it is a viewer who is going to read your content. Therefore, never try to design it according to the search engine. Try to make your content easy enough to understand as well as relatable enough to get detected. When you follow these steps, then you recognise that a viewer gets enticed to visit the same page again and hence searches for it. That's why, always create easy and relatable content. Organic traffic on your website is beneficial for SEO purposes too.
2. Use Super Keywords and Synonyms
The content of your page is well recognised by a title and keyword. Don't drop the idea of never using a synonym. Instead try to highlight the related keywords and their Synonyms for more relatable search. Moreover, use easy words, but in a diversified manner.
A super keyword is the main keyword around which the whole content is created. Try to use it more and more along with a synonym. It will make it easy for a viewer to connect it with the content. Main keywords are helpful but never underestimate the importance of synonyms and LSI keywords.
3. Add Backlinks
Backlinks are simply connecting links or passages, leading a viewer from one page content to another. In that way, both of the websites get benefits with the crawler. Backlinks can be more supported with an easy term like a dictionary. As you see in Wikipedia, where difficult words can be detected by clicking on them, in the same manner, a relatable content gets created with these suitable links and Backlinks. Moreover, Google search engines prioritize the pages having appreciable number of Backlinks. Using these backlinks, visitors spend quality time on your website which is very helpful for its organic SEO.
4. Targeted audience
When it comes to site visitors era and link building, this is one of the most favored techniques. It works higher in some industries over others, however in one way or every other you may be able to take advantage of this approach. Community hijacking includes discovering online communities that are made up of your target market, or human beings that can attain your target market.
Just try making some online friend websites to set up a tie for promoting your content, so that people can discover you too whenever they could sit that specific site's content. Directly reaching your target audience through SEO can save your time, efforts and money.
5.The Use of Info-Graphics
A human brain has a tendency to relate and understand that content having graphics and pictures. An eye connects more to the colors and pictures as it sees it every day. Therefore, in order to relate and explain your content more, you should add graphics to it. Be it a picture, cartoon, flowchart or another detail, try to add the content to your site. It will help the crawlers to detect your page and will help you to score more in an SERP rank chart along with the perfect search engine optimization tool. This key feature helps you to connect to your viewer more. More will be the viewers there, more would be the organic traffic and as a result, more will be the online search engine page rank.
Try to add every key feature and detail to your content. A diversified content is easily detected by the crawlers and an easy relatable content helps the viewers and traffic to visit your page more. In short, it is a win win situation for you all while using SEO.
Conclusion
SEO simply helps you to increase an organic traffic for your online business website. With a proper aid of Search Engine Optimization, you can smoothly run your business venture with ease at an online platform. MindInventory not only helps you in that but also maintains and regulates your website, keeping it well updated, so that your customer doesn't have to return empty handed.